Bulk edit Content Type in SharePoint / Office 365
When uploading documents to a library with multiple content types, all documents will be assigned to a default content type. Sometimes it is required to update the content type of thousands of documents. DMS-Shuttle provides a feature that solves this problem.
How it works
1. Select a Document Library, a Sub-folder or a couple of documents and perform the operation "Bulk Update Content Types" (per right mouse click and selection in context menu).
2. The tool collects all files  inside the selected structure and displays a dialog where the user can select a new Content Type and choose the versioning option (minor or major version).
3. Hit the "Update" button to complete or "Cancel" to abort the operation.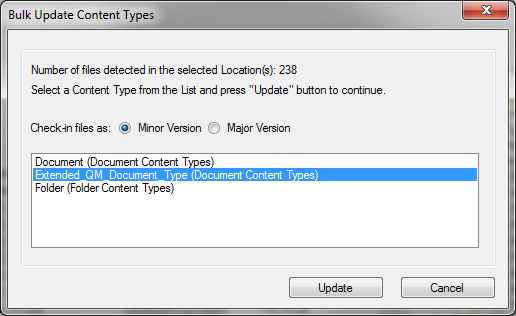 4. During the execution of the operation the tool displays a Progress Dialog. In addition, the user can see information about processed files within the Session Log View in the user Interface.
Please note:
This Feature is only available on Document Libraries which support multipel Content Types (how to turn on Support for multiple content types in a list or library).
---